Mentions légales et politique de confidentialité
Who are we ?
The website adress is : https://boyer.vin.
Editor
SCEA of Bastide
SCEA with capital of € 683,026.80
whose head office is located: 1250 chemin de la Bastide, 84820 VISAN
represented by Vincent Boyer, in his capacity as Manager
registered with the RCS of Avignon D
348 564 840
phone number: + 33. 04. 75.52.48.64
Email adress: contact@boyer.vin
Host
Vincent Boyer, Vigneron is hosted by SAS OVH, whose head office is located at 2 rue Kellermann 59 100 Roubaix – FRANCE.
Site content
All brands, photographs, texts, comments, illustrations, images, animated or not, video sequences, sounds, as well as all computer applications that could be used to make this site work and more generally all the elements reproduced or used on the site are protected by the laws in force in respect of intellectual property.
They are the full and entire property of the publisher or its partners. Any reproduction, representation, use or adaptation, in any form whatsoever, of all or part of these elements, including computer applications, without the prior written consent of the publisher, is strictly prohibited. The fact that the publisher does not initiate proceedings upon becoming aware of these unauthorized uses does not constitute acceptance of said uses and waiver of prosecution.
Photographs and product representation
The photographs of the products, accompanying their description, are not contractual and do not bind the publisher.
Site management
For the good management of the site, the editor can at any time:
certain parts of the site, to a specific category of Internet users;
delete any information that could disrupt its operation or contravene national or international laws;
suspend the site in order to carry out updates.
Responsabilities
The publisher cannot be held liable in the event of failure, breakdown, difficulty or interruption of operation, preventing access to the site or to one of its functions.
The connection material to the site that you use is under your sole responsibility. You must take all appropriate measures to protect your equipment and your own data, in particular from viral attacks via the Internet. You are also solely responsible for the sites and data you consult.
The publisher cannot be held responsible in the event of legal proceedings against you:
due to the use of the site or any service accessible via the internet
due to your non-compliance with these general conditions.
The publisher is not responsible for any damage caused to yourself, to third parties and / or to your equipment as a result of your connection or your use of the site and you waive any action against him as a result.
If the publisher were to be the subject of an amicable or legal procedure because of your use of the site, he could turn against you to obtain compensation for all damages, sums, convictions and costs that could result from this procedure.
Hypertext links
The establishment by users of all hypertext links to all or part of the site is authorized by the publisher. Any link must be removed at the request of the publisher. Any information accessible via a link to other sites is not published by the publisher. The publisher has no right to the content present in said link.
Use of personal data
The personal information that can be collected on the site is only used by the publisher for the management of relations with you, and if necessary for the processing of your orders. They are in no way transferred to third parties.
Comments
When you leave a comment on our website, the data entered in the comment form, as well as your IP address and the user agent of your browser are collected to help us detect unwanted comments.
An anonymized channel created from your email address (also called a hash) can be sent to the Gravatar service to check if you are using the service. The Gravatar service confidentiality clauses are available here: https://automattic.com/privacy/. After validation of your comment, your profile picture will be publicly visible next to your comment.
Contact Forms
In order to be able to respond to your contact requests, we collect your name, telephone number and e-mail address. These data are only used in order to contact you in return.
Cookies
If you leave a comment on our site, you will be offered to save your name, email address and website in cookies. This is only for your convenience so that you do not have to enter this information if you post another comment later. These cookies expire after one year.
If you go to the login page, a temporary cookie will be created to determine if your browser accepts cookies. It does not contain any personal data and will be deleted automatically when you close your browser.
When you log in, we will set up a number of cookies to save your login information and screen preferences. The lifespan of a login cookie is two days, that of a screen option cookie is one year. If you check "Remember me", your connection cookie will be kept for two weeks. If you log out of your account, the connection cookie will be deleted.
By modifying or publishing a post, an additional cookie will be saved in your browser. This cookie does not include any personal data. It just shows the ID of the post you just edited. It expires after a day.
Content embedded from other sites
Articles on this site may include embedded content (eg videos, images, articles, etc.). Content embedded from other sites behaves the same as if the visitor were to that other site.
These websites could collect data about you, use cookies, embed third-party tracking tools, track your interactions with these embedded content if you have a connected account on their website.
Statistics and audience measurements
In order to carry out audience measurements, we only collect anonymized IPs that do not allow the visitor to be identified.
Retention period of your data
In general, your data is kept for the time necessary to respond to your request in the event of contact.
If you leave a comment, the comment and its metadata are retained indefinitely. This allows subsequent comments to be recognized and approved automatically instead of leaving them in the moderation queue.
The rights you have over your data
If you have an account or if you have left comments on the site, you can request to receive a file containing all the personal data that we hold about you, including those that you have provided to us. You can also request the deletion of personal data concerning you. This does not take into account data stored for administrative, legal or security reasons.
Transmission of your personal data
Visitor comments can be verified using an automated spam detection service.
Right of access, rectification and delisting of your data
In application of the regulations applicable to personal data, users have the following rights:
The right of access: they can exercise their right of access to know their personal data, by writing to the email address mentionned below. In this case, before the implementation of this right, the Platform may request rpoof of the user's identity in order to verify its accuracy;
The right of rectification: if the personal data held by the Platform are inaccurate, they may request the updating of the information;
The right to delete data: users can request the deletion of their personal data, in accordance with applicable data protection laws;
The right to limit processing of personal data in accordance with the assumptions provided for by the GDPR;
The right to object to data processing: users can object to their data being processed in accordance with the assumptions provided for by the GDPR;
The right to portability: they can request that the Platform give them the personal data they have provided to transmit them to a new Platform.
You can exercise this right by contacting us at the following address:
1250 Chemin de la Bastide 84820 VISAN
Or by email, at:
contact@boyer.vin
In addition, and since Law No. 2016-1321 of October 7, 2016, people who so wish have the possibility of organizing the fate of their data after their death. For more information on the subject, you can consult the CNIL website: https://www.cnil.fr/.
Users can also lodge a complaint with the CNIL on the CNIL website: https://www.cnil.fr.
We recommend that you contact us first before filing a complaint with the CNIL, because we are at your entire disposal to resolve your problem.
Applicable law
The present conditions of use of the site are governed by French law and subject to the jurisdiction of the courts of the publisher's head office, subject to a specific attribution of jurisdiction arising from a particular law or regulation.
Discover our wines !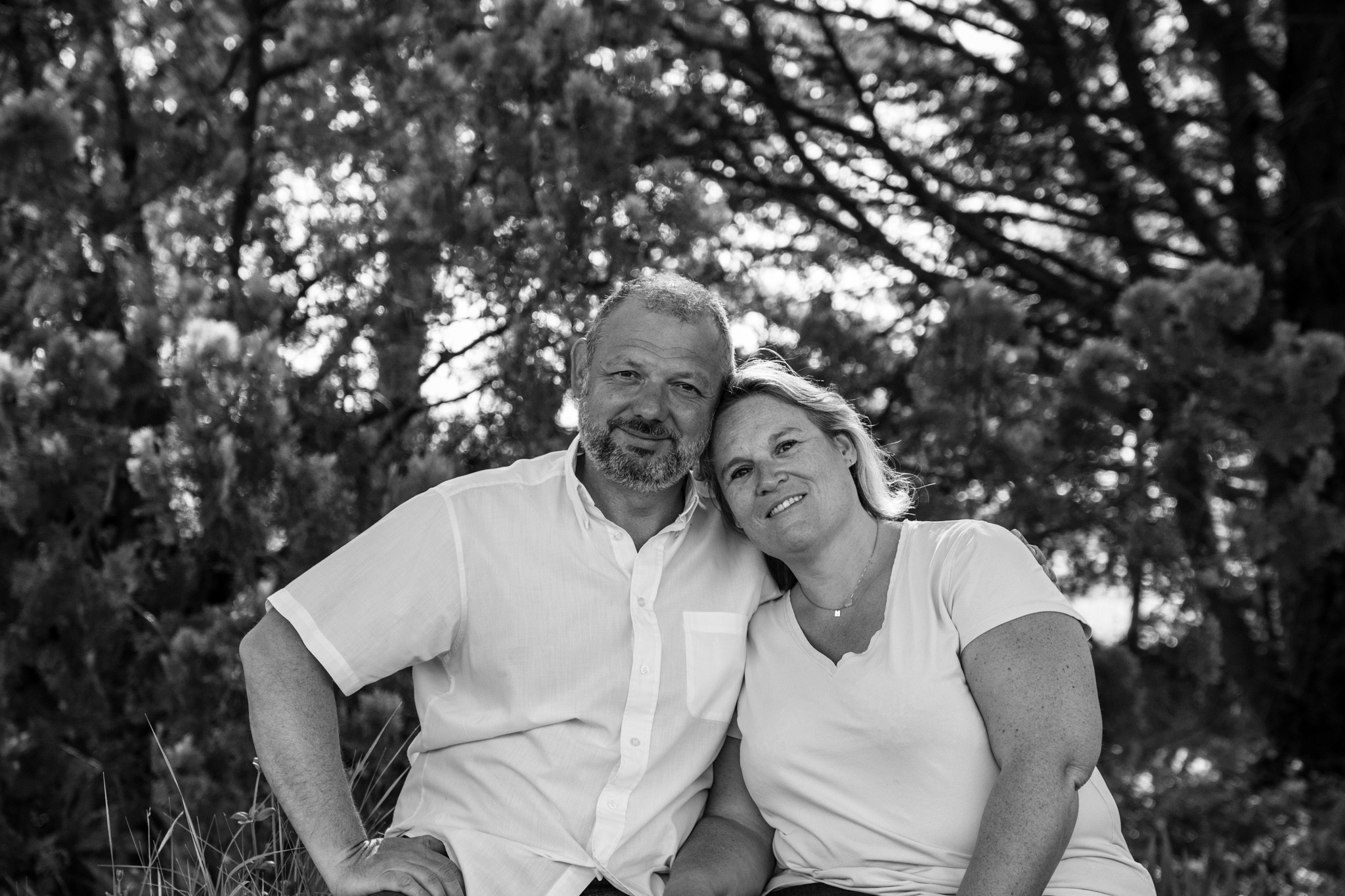 Vincent et Stéphanie BOYER
Vignerons passionnés, ils mettent en valeur l'exploitation familiale fondée par Bernard, le père de Vincent depuis 1999.
Vincent Boyer, a su, par ses valeurs – amour du travail bien fait, honnêteté et respect de la nature – mettre en lumière un terroir d'exception qui produit des vins d'exception.